Columbia Asia Hospital – India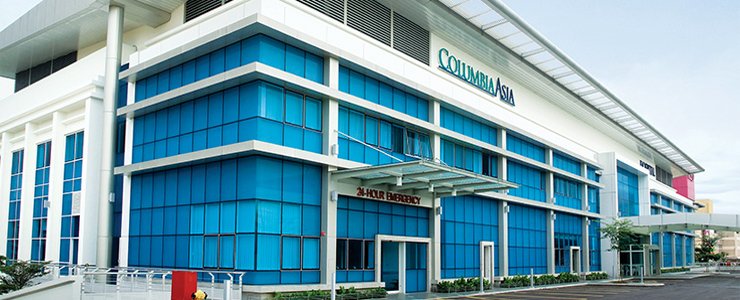 An international healthcare provider established with a view to deliver the global patients with utmost care, Columbia Asia Group of Hospitals is one of the immediately developing healthcare associations in Asia continent. Along with its various branches in Malaysia, Vietnam and Indonesia, this association also runs 8 hospitals in various parts of India. All the hospitals under this group are aesthetically constructed keeping in mind the demand and ambition of every category of patient. The pool of highly capable and educated doctors bring quality healthcare to the patients with the guidance of most advanced equipments and facilities.
Founded in the year 1994, Columbia Asia receives an international repute in the world healthcare market with its unparallel services and facilities. All the hospitals under this association give attention on individual patient care so that all the patients can experience a rapid improvement. The doctors of Columbia Asia are providing regular workshops on latest medical mediation so that they can preserve themselves up-to-date with the latest trends. The association makes it possible for the people to get the best of healthcare services in the most price effective manner. The Columbia Asia hospitals are specialized in Transplants (liver, kidney), Interventional Cardiology and Cardiac Surgery, Neurosurgery, Orthopedic Surgery, Surgical Oncology, Cosmetic and Bariatric Surgery and high-risk Pregnancies etc.
Columbia Asia Hospitals in India
The Columbia Asia runs a total of 8 multi-specialty hospitals in different parts of India. The group is also going to open a super-specialty hospital in Pune.
Columbia Asia, Palam Vihar, Gurgaon
Columbia Asia, Salt Lake, Kolkata
Columbia Asia, Hebbal, Bangalore
Columbia Asia, Yeshwanthpur, Bangalore
Specialties Available at Columbia Asia
The Columbia Asia hospitals deals in a number of medical and surgical specialties that include –
Bariatric (Obesity) Surgery
Cardiothoracic Surgery
Complex ENT Surgeries (Cochlear Implants)
IVF (In Vitro Fertilization)
Kidney (Renal) Transplant
Neurosurgery
Orthopedics Surgery
Minimally Invasive Spine Surgery – Clinical Hematology
Clinical Psychology and Psychiatry
Cosmetic and Plastic Surgery
Dermatology
Interventional Cardiology
Maxillofacial Surgery
Minimally Invasive Laparoscopic Surgery-Medical & Surgical Oncology
Nephrology & Urology
Neurology – Deep Brain Stimulation Techniques for Parkinson's Disease
Obstetrics & Gynaecology
Pediatrics
Spine Reconstruction Surgery
Special Services for Foreign Patients at Columbia Asia
Joint Replacement and Reconstruction Surgery
The Columbia Asia recognizes well the kind of support that the patients and their family needs when they are traveling from across the borders. Thus, to meet the needs of every foreign patient, the healthcare association has developed special forum. The services that this multi-specialty healthcare association offers to its foreign patients are as follows –
To chose the right Columbia Asia hospital and the right doctor for the international patients, the group offers seamless, end-to-end service
All the efforts are directed towards offering unparallel experience to the foreign guests
A devoted international patient help desk
Facility for offshore online consultation with the treating doctors via video calling and teleconferencing
Complimentary medical options and treatment estimates
Services for language interpretation
Made-to-order cuisine
Concierge service that includes local SIM card, registration with police, foreign exchange, local transport, confirmation of air tickets, shopping, sightseeing and Visa extension
Accessibility of in-room internet services
Post – discharge, follow up by the treating doctors to ensure a complete success of the treatment
Attractive tourism options through the partners
Insurance facility in a complete cashless manner
Easy payment options.